Character Template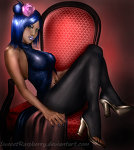 General Information
Name
: Kaira Rose
Alias
: The Black Rose
Age
: 13
Village:
Kumogakure
Appearance
: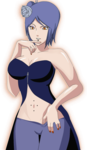 Kaira apearence looks like she is 18 years old when she is actually 13 years old, she is female in gender, her height is 169.4 cm in height, she weights 45.6 kilograms, her eyes are purple with red pupils, her hair is white/ light gray she has it untied and her hair is 1 metre in length.
Her skin is lightly tanned she is unscared aside from the tattoos she has her build is athletic, well curved, slight hourglass fiqure. Her outfits always change
Kaira starting from the very top they would notice the mass of silky smooth jet black hair that she usually would have tied into a pony tail, though when this is untied the hair would easily reach down to just above her rear. Her hair would also seem to form several natural bangs that hang over each side of her face past her eyes to give her a rather alluring look.
Kairas eyes are a soft blue in colour almost light enough to be white one would notice if they looked deep enough into her eyes themselves they would find soft specks of purple throughout the white orbs that seem to draw everyone and everything in.
Her nose is of average size and shape and holds nothing truly special about it, other then it leads down to the soft pink lips that always seem to carry a soft pout to them. Her lips are of normal size and seem to fit the femine face she has perfectly.
Moving further down one would come to the large chest she posses', this is often the first place people tend to look and remember about Kaira as it is one of her most distinguishing features. Though many question whether or not her E cup breasts are fake or not, though she assures everyone they are. Her stomach is flat and rather firm to the touch and if she tenses her muscles enough one could make out slight muscle definition beneath the flawless skin.
If one is to look at Kaira from behind without a top on or if she is in a bikini they would see a very large tattoo of a phoenix with its wings spread in flame, this tattoo seems to take up the whole of her back and looks very lifelike one would swear the eyes of the phoenix follow them, she is often reserved in telling people the true meaning of the tattoo.
Her arms are the perfect length for her body, the tips of her fingers just reaching slightly below her crotch, one would notice that on the entire left arm she has a tattoo of a winding vine that starts on her hand and finishes on the top of her shoulder, along this vine thirty four blossomed flowers rest. On her right bicep there is a tattoo of a circle split into five sectors, each representing one of the main element affinities and in the middle a yin and yang symbol to show her affinity for medical jutsu, on her right forearm is the tattoo of a dragon with its head starting on the top of her hand the tail reaching to her elbow itself. Her fingernails are often shaped to have sharp points and are often painted a dark red colour.
Kairas rear would be firm with no to little signs of fat on it itself due to the amount of excercise she does, this is also one of the only areas on her body she has not yet tattooed as well as her crotch, neck, face or some of her legs.
Her legs are also in her opinion the best feature of her body, They are long, toned and curved in a way that completely compliments the rest of her body, they are also always void of and body hair itself and on her right inner thigh there would rest a tattoo of a black rose to symbolize her dark, violent yet caring nature. Her feet are rather small though not freakishly small and her nails always seem to be painted a different colour every week but her favourite colour is a deep dark red.
Kairas skin is always lightly tanned and her body seems to have no signs of tan lines at all, the skin itself is flawless other then the tattoos and is void of most body air aside from that on her had and her eye brows.
Her Age Now
Kaira now wears black leather pants, a blue tunic that shows her woman part of and exposes her stomach. kaira also had a hair cut and died her hair bluw where she has Onigami flower in her hair her hair is now of medium length.
Personality
:
aira was born into a family in the middle class. She was taught how to respect those who are older than her and to only fight when necessary. Kaira is not the type of person who starts arguments, but she is quite capable of ending one with just a few words. A flaw of hers would be that she jumps to conclusions. But most of the time, she normally keeps to herself and helps those who are in need. Kaira is very much like her mother in behavior, she is stubborn, independent and is very strong hearted and willed. Kaira will not allow anyone to walk over her or tell her what to do.
When Kaira is out in the public, she is observant and will make time to help those who are in need around her. She likes to spend time with the elderly as the stories that they come up with are always interesting. Kaira is afraid of growing old as she is quite self conscious; her appearance must always be at it's best. Kaira is the type of person who loves the attention, but she does not seek it. There is also a dark side to her as well, Kaira was brought up without friends except for her family. She is the only child and does become bitter when she is lonely, this is the reason why she loves the attention as she never got any when she was younger.
Clan Name
:N/A
Bloodline/Kekkei Genkai
: 3 Tailed Host
Special Characteristics
: N/A
Clan Traits:
N/A
Spoiler:
Academy Justu
Spoiler:
N/A
History/Rp Sample
History
:
Spoiler:
Spoiler:
Spoiler:
RP Sample
:
Spoiler: